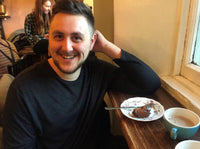 Hello I'm Marc!
I'm just a wee guy from Glasgow and I cant believe how far I've come!
I am 28 and live and work in Glasgow. From 2016 working from my tiny garden shed with 1 tiny kiln to now working in my purpose designed studio with my small team and 5 kilns! After going fully self employed 4 years ago due to struggling with my mental health I am so grateful that my "wee" business has grown from strength to strength.
Designing, creating and supplying many lovely stockists from all around the UK, Scottish islands and a few dotted around the world too.  With the help of my small team including my Mum, Vhari we design and hand craft bespoke fused glass decorations, greetings cards, homeware and gifts.
Learn More
Reviews
Excellent Product!

Delivery was quick and nicely packaged.

Etsy Customer
Commissioned Marc to create another bespoke piece for me. He did not disappoint it's absolutely stunning! It made the perfect gift. Exceptional quality and would highly recommend

Commissioned Customer
Thanks for doing what you do in such a brilliant way.

Etsy Customer